WhatsApp is one of the most popular messaging apps with more than one billion active users. New features are actively added to the app and every few weeks we come across an interesting edition. There are over a billion WhatsApp users worldwide right now. The bad news? Your mum has already found her new favorite way to spam you. The good news? You can easily avoid her on the down-low – and that's just one of the many secret WhatsApp tips you probably don't know about. Fortunately for you, we've scoured every inch of WhatsApp to gather up its most useful features. Read these greatest WhatsApp secret tricks to become a pro in no time at all.
Whatsapp Secret Tricks You Never Knew!

What are all the new WhatsApp changes that you should know about? If you frequently use WhatsApp for professional or personal reasons and are looking for ways to enhance your chatting experience, here are some useful Whatsapp secret tips and tricks that you can benefit from. From disabling the WhatsApp 'last seen' feature to bookmarking messages you don't want to forget about, there are loads of tricks to make your favorite IM app more useful than ever. You just have to be in the know.
Star messages for later
When dinner time rolls around, the last thing you want to do is scroll through 352 frivolous messages to find the address of the restaurant you're meeting your friends at. Fortunately, WhatsApp lets you bookmark certain messages for easy access.
On iOS, long hold or double-tap on any message and tap on the star icon to mark it. 

To find it again, all you have to do is tap on the chat's name, and tap on Starred Messages to see all the messages you've marked out.

On Android, long hold on the message then click the star icon at the top of the screen. 

To find your starred messages, just hit the three dots icon in the top-right and got to Starred Messages.
You can also see conversation context by either tapping on the arrow next to the message (iOS) on tapping on the message itself (Android). This will bring you back to the exact place in the chat. Messages can also be unstarred when you're done with them and viewed in their entirety in the main settings menu.
Read deleted messages on WhatsApp
There is a way to read messages that your friends have deleted from their end. Just download a notification log app and grant access to read the notification. This app will keep a log of all incoming notifications and will also come in handy when you wish to retrieve a notification you have accidentally swiped off.
Delete images or videos | Whatsapp Secret Tricks

If a particular WhatsApp group or contact is hogging storage space, you can delete messages, chats, videos, and audio from a specific WhatsApp group.
Go to Settings>> 'Data and Storage usage'

Select 'Storage Usage' and you will see all groups and contacts ranked according to the storage space they are hogging.

Select the group and tap on the 'manage messages' option at the bottom.

Now, select and clear whatever data (videos, GIFs, Photos, etc.) you wish to get rid of.
Clear your unread message count
Reading all your messages can be hard, especially if your colleagues have the habit of contacting you via WhatsApp. So the buildup of unread messages is inevitable.
But if you're the obsessive-compulsive sort and our number of unread messages (99 at last count) is making your left eye twitch uncontrollably, there's a quick way to reset the counter without having to go through each message.
Hit edit in the top left corner, and then read All at the bottom. Ahh, that must feel good. 

You can stop twitching now.

This is also where you can dump or archive multiple chats at once.
Limit data used by WhatsApp
To restrict the data consumed by the app, this is what you need to do.
Go to settings>>Data and Storage usage

From here you can decide what all media (Photos, videos, documents, audio) the app can download while eating your data.
Format the text | Whatsapp Secret Tricks

WhatsApp lets you bold, italicize, or add strikethrough to text on the fly. To do so, you'll need to add a couple of special characters before and after the text you want to format.
To 

bold

 text in WhatsApp, use an asterisk (*bold*).

Italicize

 text with an underscore (_italics_); create 

Strikethrough text with tildes (~strikethrough~).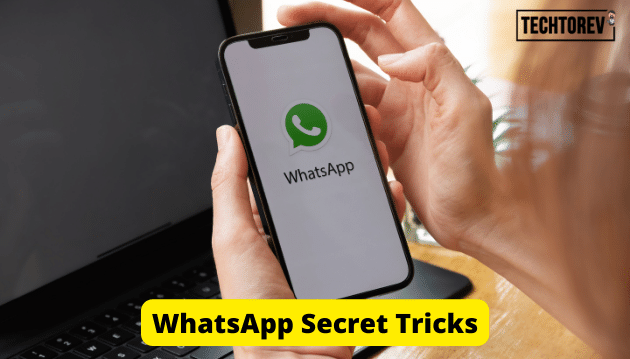 Share location on WhatsApp
If you're trying to give directions to your mates on where to meet and getting nowhere, you can sling them a pin of your current location and get them to make their way to you using maps. If you're not there yet, you can also send them a pin of where you're heading, or share your 'live location' to let them track your movements en route.
This will broadcast your location to them for a choice of 15 minutes, 1 hour, or 8 hours. Changed your mind about wanting your whereabouts known? You can end it whenever you want by clicking the "stop sharing" option in the chat.
On iOS, click the + icon to the left of the chatbox, and choose Location. 

This will bring up all of your options for the above, though you will need to approve Whatsapp to know your location at all times if you want to use Live Location (it will prompt you to do this if you haven't already). 

On Android, head to the Attach menu and choose Location in the same way – you'll need to approve the app for similar location permissions here too.
Make your messages disappear
WhatsApp is currently rolling out a new feature that allows you to turn on disappearing messages for specific conversations. When it's enabled, all of your messages will disappear from a chat after seven days. 
Turn on Disappearing Messages by tapping on the contact or chat's name at the top of your screen. 

Select 

Disappearing Messages

 from the list of options and then tap 

On

. 

Keep in mind that any images you send or receive are automatically saved to your or the recipient's phone. 

So while the message with the photo will disappear, the actual image may still be saved.
Send public invites Privately
If you've got a generic announcement to make – an invite to a weekend BBQ or an intervention about your friend's unhealthy obsession with KFC – and you don't want to do it on the loudmouth platform that is Facebook, this feature works in pretty much the same way as BCC-ing people in an email.
Your recipients will get the message as if it was a privately composed one, oblivious to the fact that you've sent the same invite to 342 other people. Sincerity? What's that?
On the top-left-hand corner of your WhatsApp Chats window, just below the search bar, you'll notice a Broadcast Lists. 

Tap on it for the option to create a new list of contacts you want your message to go out to, and message away as you would normally.

 Nobody will be any the wiser.
Back up your chat history in WhatsApp
Worried about losing a year's worth of messages? You needn't be. WhatsApp knows how precious your chat history is to you and secures it all for you in the cloud.
iPhone users get the option of backing their chat history to iCloud automatically on a daily/weekly/monthly schedule and can choose to back up with or without videos. 

Head to Settings > Chats > Chat Backup to set your preferences for that.

For Android users to do the same, go to Settings > Chats and calls > Chat backup, which will let you set up an automatic Google Drive backup.

The next time you install WhatsApp from fresh on any device, you can simply select the Google Drive backup option at the setup screen, to have all your up-to-date messages injected into your device, straight from the cloud.

Just interested in the one conversation? Both operating systems allow you to just save the deets of one special chat by going into your chosen convo and selecting to send it to yourself. 

On iOS, click your contact's name in chat > Export Chat, or on Android, click three dots > More > Email Chat.
Mute a conversation | Whatsapp Secret Tricks

When heading into a movie or meeting, use WhatsApp's mute feature to silence a chatty group conversation or a friend who doesn't get the hint that you're busy.
Android users can long-press on a chat, then tap on the crossed-out speaker icon at the top of the screen. 

iPhone users can swipe to the left across a conversation, then tap the three-dot button followed by 

Mute

. 

You can choose to mute it for 8 hours, one week, or always. 
Looking for ways to get more out of WhatsApp on your Android phone or iPhone? We have your back. For example, rolling out right now is a new setting that will automatically clear out your messages after a week. It's a Snapchat-like feature, sure, but who says that's not welcome in other apps? You can even format the text you send in a message, adding some flair to an otherwise boring conversation. So, check out WhatsApp's secret tricks and try it for yourself!